AIGA Memphis presents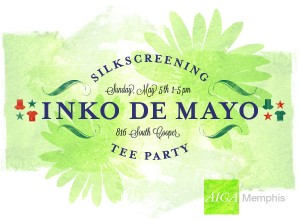 Hands-on prints + Graze food truck + piñata smash  =  INKO DE MAYO Silkscreening Tee Party
Sunday, May 5
1-5pm
816 S. Cooper
(Corner of Cooper & Elzey)
•    Try your hand at silkscreening
•    Grab grub from Graze food truck, courtesy of Simple Focus and Quickie's Creative Factory
•    Crush a piñata stuffed with candy and designer-centric goodies
•    AND MORE
Join the entire Memphis AIGA chapter in a Cinco de Mayo outdoor silkscreening bash! Bring your own tee (or anything else) for printing and get hands-on silkscreening experience. Then learn about the whole printing process during the walkthrough at 1:30.
Print stuff for just $10 — choose from three custom designs!
You bring it, you print it (shirt, hoodie, canvas, bag, etc. as long as it's flat, not waterproof, and 10″ x 10″ in area, cotton material recommended)
(Printable blank shirts available for $10, pre-printed shirts available for $20)
Graze Food Truck will be on hand to sell scrumptious Mexican bites. Farm to Truck…Food For the Soul — using locally grown, seasonal ingredients whenever possible.

Graze Food Truck and the Inko de Mayo event sponsored by:
Want to join (or rejoin) AIGA?
Now, memberships start at just $50. Enjoy free and discounted events all year long. See all the perks at aiga.org/join.
Follow us on Twitter and Facebook:
memphis.aiga.org
twitter.com/aigamemphis
Illustration by Kyle Scott