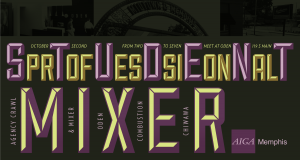 Join us next Thursday, October 3, for our first Student Agency Crawl and Mixer.
We'll tour Oden and Combustion agencies, and then hang out with other students and professionals at Chiwawa. You'll have the chance to mingle with reps from Combustion, Oden, Red Deluxe, Simple Focus, Rocketfuel, Archer>Malmo, Lokion Interactive, and other professional AIGA members.
AIGA Student Members can sign up for a one-on-one meeting with a rep when you get to Chiwawa. Just show your membership card or proof of membership purchase to Santana Singleton and we'll put you on the schedule.
SCHEDULE
2:30 p.m. Oden Tour and Presentation 
4 p.m. Combustion Tour and Presentation 
5 – 7 p.m. Chiwawa
Artwork by Kyle Scott